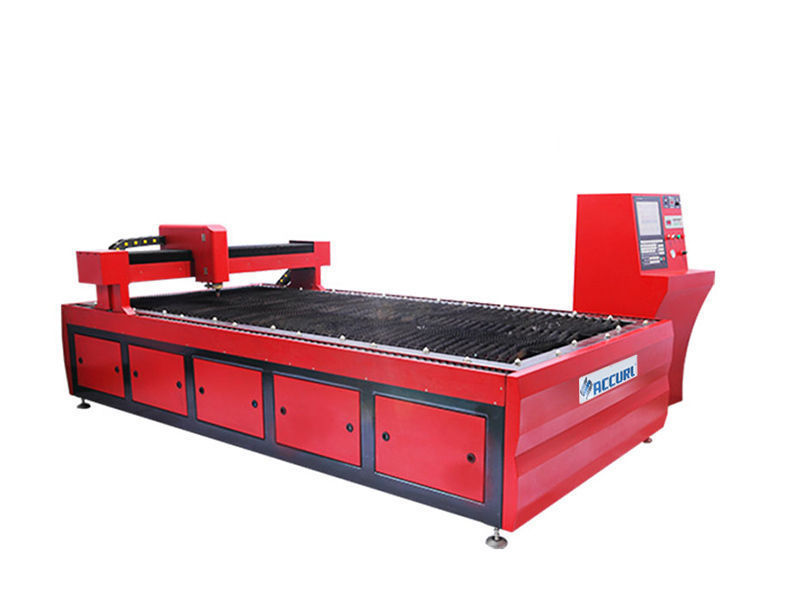 Lühike sissejuhatus
---
This machine adopts integrated design as well as a combination of CNC,mechanical transmission and thermal cutting.That makes it to be a high technology ,high precision and high reliability cutting machine.Excellent human interface guarantees the easy operating and quick processing forvarious workpiece.
Kiirdetailid
---
Seisund: uus
Pinge: 220V / 380V
Nimivõimsus: 8,5KW
Dimension(L*W*H): 1300*2500mm
Kaal: 1500kg
Sertifikaat: CE ISO
Garantii: 1 aasta
Pakutakse müügijärgset teenindust: masinate hooldamiseks välismaal asuvad insenerid
Cutting wadth: 300-2000mm
Cutting length: 2500-6000mm
Numerical control system: Beijing Start /Starfire or customized
Cutting thickness: depended on plasma power
Max moving speed: 20000mm/min
Cutting speed: depended on workpiece thickness
Working table: dust collecting
Input power: 8.5KW
File transfer: USB interface
Working mode: Untouched arc striking Shandong Supplier
Tehnilised parameetrid
---
| | |
| --- | --- |
| Nimi | cnc plasma cut machine |
| Tööpiirkond | 1300 * 2500mm |
| Lõike paksus | depended on plasma power |
| Maksimaalne liikumiskiirus | 20000mm / min |
| Plasma jõud | 60A or 100A |
| Ajamimootor | Sammmootor |
| Kontrollsüsteem | Beijing Start /Starfire or customized |
| Tööpinge | 220V/380V |
| Package | plywood case |
| Cutting material | titanium,aluminium,tube and so on |
Omadused
---
(1)Less and tidy incision ,no cutting slag or need of after treatment .
(2)High accuracy rack gear transmission. Lower noise, stable and accurate coordinate movement.
(3)Adopting swift clamp to aviod workpiece moving and greatly reduce the cost .
KKK
---
1), K: Kas teil on müügijärgset tuge?
A: Yes, we are happy to give advice and we also have skilled technicians available across the world. We need your machines running in order to keep your business running.
2), K: Ma pole kindel, kas see masin sobib minu tööks?
A: Don't worry, just tell me your working materials, max working area and cutting thickness, then I will recommend you the most suitable machine for you.
3), Q: kas olete tehas või kaubandusettevõte?
A: We are factory, which manufactures CNC cutting machines , with 10 years experience in CNC machine's industry.
4),Q:What other things also need after we bought your machines?
A:With plasma cutting: need plasma power source and air compressor. You can match plasma power supply by yourself, or buy together with the cutter from us, it's optional.
If you buy from us, we will connect the wires of plasma power source and CNC cutting machine together, then more conveniently to use.
5),Q:How can i do if the machine goes wrong?
A:If confronted with such problems,online service is offered,you could contact our sales. Also,we offer engineer delivery service.Please contact us asap and don't try fix the machine by yourself or someone else.We will response within 12 hours as quick as we can to solve it for you.
5-teljeline plasma lõikamismasin
,
mini cnc plasma lõikamismasin
,
Müüa mini laserlõikusmasin
,
lauaplasmalõikusmasin